Posted by Carpe Diem Beds on 23rd Sep 2022
Prepare for fall with the latest arrivals from Carpe Diem Beds
Fall is the time of year when families start to spend more time indoors.
Whether it is due to cold weather or rainy days, our indoor spaces can often feel like the equivalent of hibernation.
With this in mind, Carpe Diem Beds have released some new products designed to help unwind with comfort and in style. By following the latest trends Carpe Diem Beds can help create the perfect bedroom sanctuary with simplicity and minimalism – ensuring you have the optimal space for unwinding.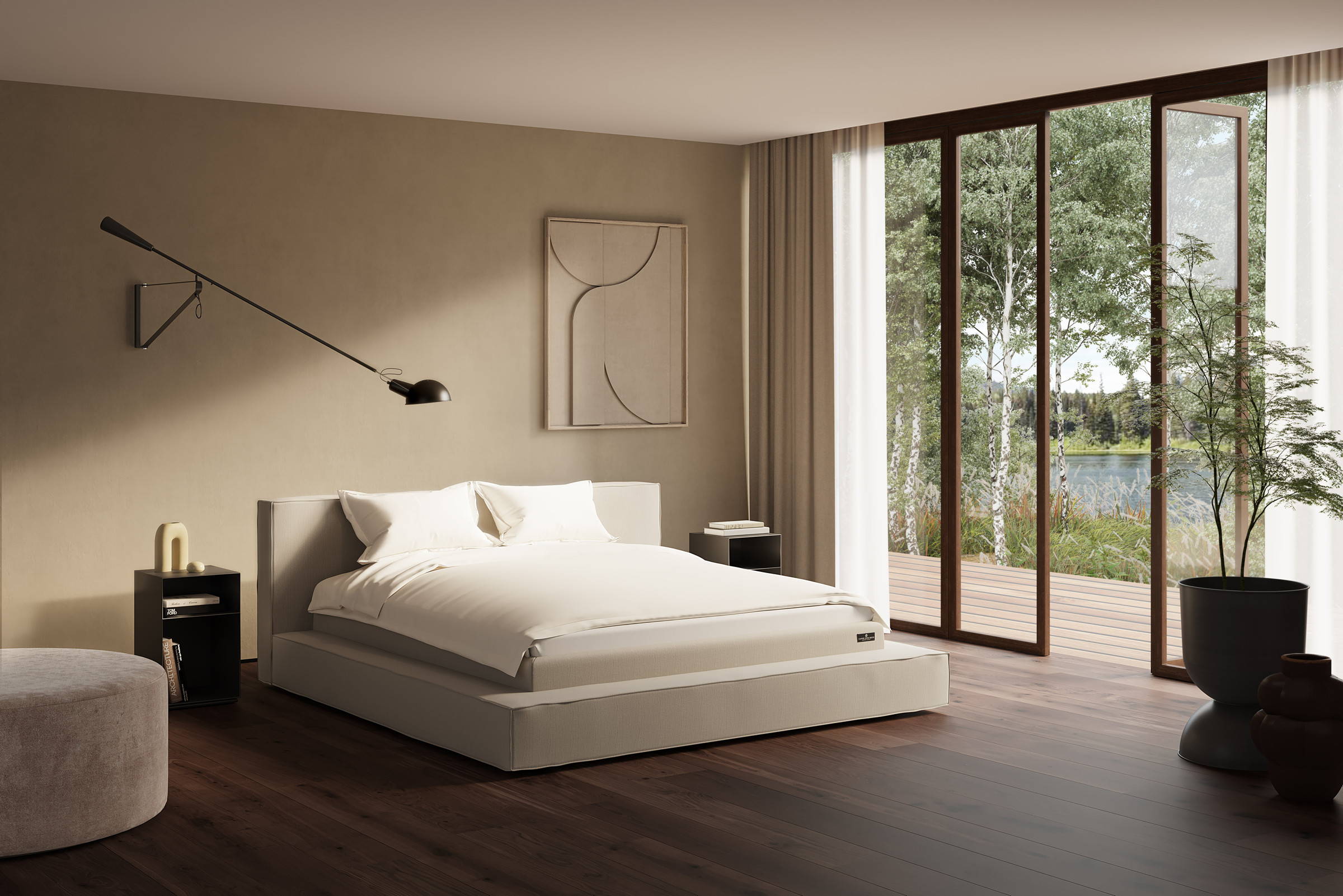 Rörö – sleek lines and Scandinavian minimalism
The Rörö bedframe is the first in our new bedframe product line and is another excellent example of exquisite craftsmanship. With its sleek, modern look, it is a perfect alternative for those who prefer ultra-low beds to classic continental beds.
The integrated headboard makes this bedframe ideal for use in any bedroom of your home, whether you prefer to position it against a wall or in the middle of your space. Additionally, hidden legs create the impression that the bed is floating a few centimetres above the floor, making it appear almost weightless – a sublime addition to any contemporary bedroom.
As with all other Carpe Diem Beds, Rörö is carefully assembled and handcrafted in Sweden, and can be customised with a variety of fabrics and colours. This makes it possible for you to create a unique space in your home where you feel comfortable and nurtured by your own personal bedroom style.
We have selected only the finest materials and top-notch manufacturers, giving your bed an authentic look and feel that will last for years to come.
Rörö is available in two sizes, suitable for either a 160x200 or a 180x200 cm mattress. The bedframe can ideally be combined with our box spring mattresses Stora Harpö or Lilla Harpö.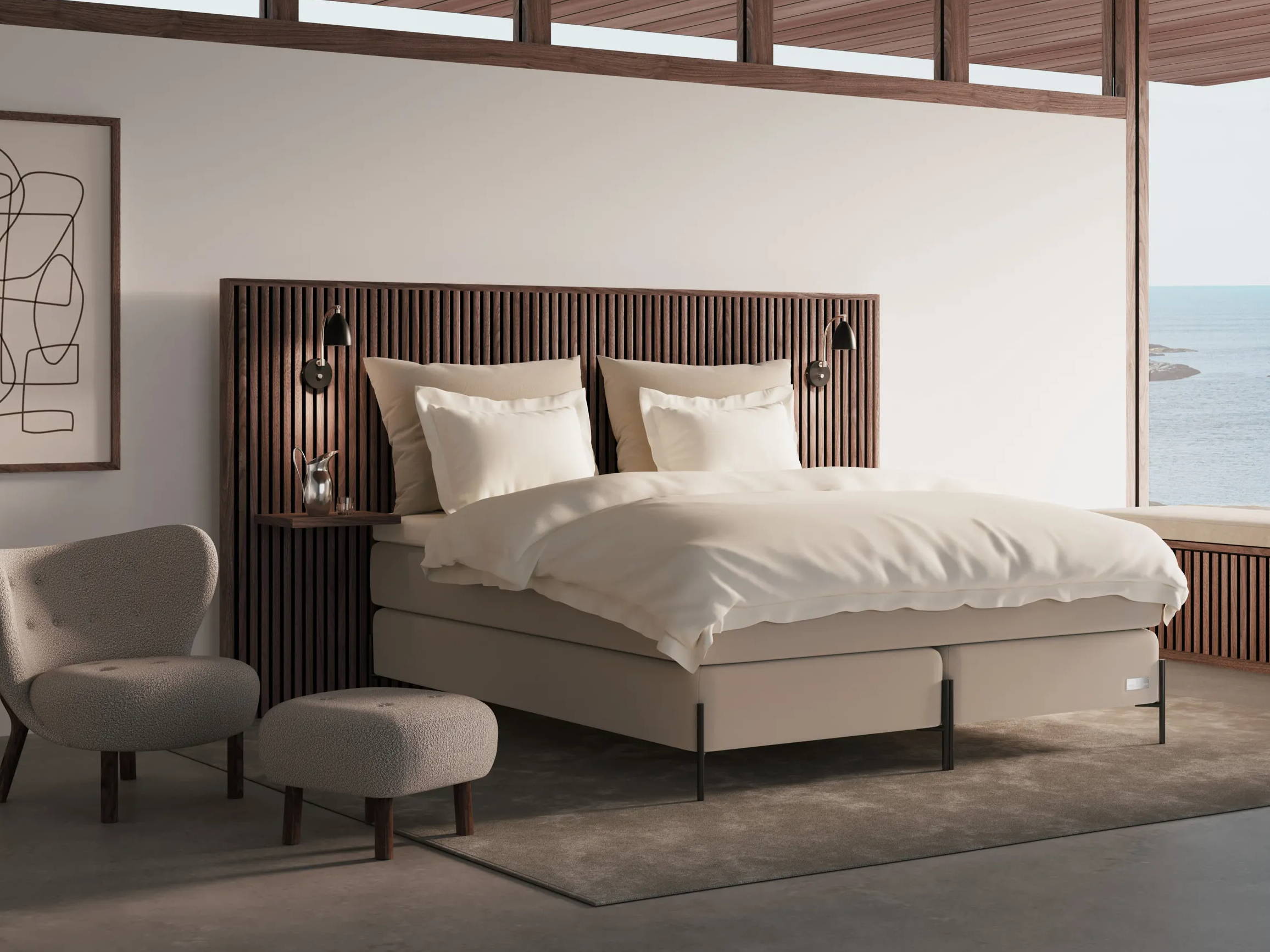 Vallerö – a functional statement piece
When it comes to bedroom furniture, there are few things more important for the bedroom design than the headboard. A good one can completely transform a room, giving it character and personality. This certainly holds true in the case of the Vallerö headboard, which is another modern addition to our assortment.
Vallerö is a sleek and modern headboard, consisting of handcrafted walnut slats and sound-absorbing backing. The result is an elegant piece that will add both warmth and stylish calmness to any bedroom.
The contrasting wooden slats combined with integrated bedside tables, adjustable reading lamps and sound-absorbing properties create a beautiful bed accessory that is not only a subtle statement piece but also offers plenty of functionality.
Vallerö was created in collaboration with Wood On Wall, an innovative and modern design firm that specialises in sound-absorbing wall materials with a high focus on design.
The headboard is made using wood sourced from sustainably grown forests, and its innovative felt backing is made entirely of recycled plastic.
Customise your dream bed
Our online configuration tool makes it easy to build your very own, uniquely designed bed. Choose from our exclusive selection of bed models, legs, headboards and fabrics.
Get the full experience at our flagship store in Copenhagen
If you are in Copenhagen, we encourage you to stop by our Carpe Diem Beds Store located at Ny Østergade 7, just off Strøget. Here you get the opportunity to see and test our collection of exclusive beds and be inspired by dreamy bedroom environments and luxurious accessories.
Our dedicated bed specialists will be happy to help you find the right configuration, fabrics and materials that will suit your needs and preferences.
Not visiting Copenhagen anytime soon? Find your closest Carpe Diem Bed Store or retailer in our store locator.